Expert Commercial Carpet Cleaning Services
in Flint, MI
---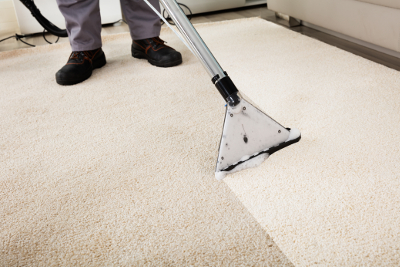 When a customer comes into your business, you want to provide a good first impression. Fair prices, friendly service, and great products are all things that drive customers to your business over your competitors. However, there's one thing that could be driving them away—a dirty floor.
Whether it's fair or not, part of a customer's first impression comes down to the cleanliness of your property. Your carpet is one of the many things you'll have to ensure is up to your customer's standards. We understand that maintaining your company's excellent service and great product line is your top priority. Meanwhile, cleanliness is likely something you'd rather not have to worry about.
Thankfully, Atlas Cleaning Service is here to ease that burden by providing precision carpet cleaning to local Flint businesses. That way, you can focus on your company's top priorities while we maintain the ground floor.
Professional Commercial Carpet Cleaning Company Since 1977
For over 40 years, Atlas Cleaning Service, Inc. has offered in-depth carpet cleaning to businesses throughout Genesee County. There's a reason we've been in business for nearly half a century. We focus on your needs and provide a solution that fixes the problem without hurting your bottom line.
A few of our services include:
Standard Carpet Services - Even our most basic carpet cleaning process goes above and beyond for our clients. We provide a deep cleaning that removes dirt and all contaminants from your carpet.
Odor Elimination - Is your business, unfortunately, a victim of mildew? Maybe a customer brought their pet in, and an odor stuck around. Don't worry. We can get rid of all those pesky odors that drive customers away.
Stain Removal - We have specific cleaning solutions that target those eye-catching stains and make them disappear. You don't have to walk into work every day and see that red stain staring at you. Our cleaning methods eliminate stains and make your carpet look brand new.
Scotchgard™ Treatment - With the stain removed, the last thing we want is for a new one to take its place. Our Scotchgard™ Treatment protects your entire floor, right down to the carpet fibers. That way, you don't have to worry about staining your freshly cleaned carpet.
Our years of experience help us understand how the environment and architecture in Southeast Michigan affect carpets. We take all these characteristics into account while providing efficient cleaning to all our clients.
Frequently Asked Commercial Carpet Cleaning Questions
Atlas Carpet Cleaning is here to answer any questions about our cleaning system. We believe in transparency, quality, and friendly customer service. Below are just a few of the most common questions we're asked. If you have any more, don't be afraid to contact us today!
How Often Should I Have My Carpets Cleaned?
The frequency of carpet cleaning depends on various factors, including foot traffic, the type of business, and the carpet's condition. For example, cleaning may be necessary every 3-6 months in high-traffic areas, while low-traffic areas may require annual cleaning. If you feel that you need a cleaning now, contact our team today to get started.
Can Carpet Cleaning Remove All Stains & Odors?
While we can effectively remove many stains and odors, the success depends on the type and age of the stain. Some stains may be permanent, especially if they've been set for a long time. Don't worry; we'll assess the situation and provide realistic expectations before any stain removal job. We believe in transparency, and we'll only take a job we know we can handle.
---
Contact Flint's Top Commercial Carpet Cleaner Today
Our professional carpet cleaning services are tailored to fit the needs of your business. When working with our commercial clients, we emphasize efficient service without hurting your bottom line. A dirty carpet can harm your business. A long drying time after cleaning can also impact your company's earnings. We take these worries into account and deliver emphatic results.
Atlas Cleaning Services strives to be professional carpet cleaners that help protect Flint, Michigan-based businesses. Contact our team today and get ready for your customers to be in awe of your clean carpet.